Tweddle Farm Tour
Please use the navigator below to take a tour of our farm.
2. Giant Rabbits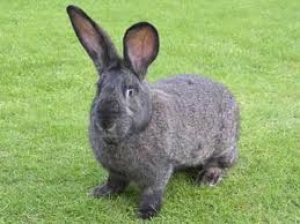 Giant Rabbits (Oryctolagus Cuniculus)
As their name suggest, these rabbits are the largest rabbits to be found. They have a large, long body, long erect ears, and big bright eyes. They have quite short fur which can be any number of colours from bright white to chocolate brown and black.
Did you know? - Giant Rabbits don't live as long as the medium sized breeds. The average age for a Giant Rabbit is 5 to 6 years old.
3. Lovebirds
Lovebirds (Agapornis)
Lovebirds are among the smallest parrots and are characterized by a stocky build, a short blunt tail, and a relatively large, sharp beak. Each species is known for its' own special colour combination.
Did you know? - Peach-faced Lovebirds live in dry habitats but are very dependent on water and must stay near a constant supply. Local people have learned to find sources of water by following flocks of Lovebirds to their evening drinking hole.
4. Baby Barn
This is our where our young animals live. Usually you will find our lambs, piglets, chicks, kids, and calves in here. At certain times of the year, this is where we bottle feed our babies.
5. Bourkes Parakeets
Bourke's Parakeets (Neopsephotus Bourkeii)
A brownish bird with pink abdomen and blue rump, approximately 19 cm long and weighing 45 g. The Bourke's Parakeet originates from Australia.
Did you know? - The expected lifespan of a Bourke's Parakeet is 10 or more years.
6. Parakeets
Plum-Headed Parakeet (Psittacula Cyanocephala) (as picture)
Did you know? - The lifespan of the Plum-headed Parakeet is around 15 years.
Rose-Ringed Parakeet (Psittacula Krameri)
Did you know? - The lifespan of the Rose-ringed Parakeet is about 20 years but there have been cases where they have lived for 40 years or more.
7. Guinea Pigs
Guinea Pigs (Cavia porcellus)
The Guinea Pig has short legs, a short neck, a big head, and no tail.  They have 4 fingers on their front legs and 3 toes on their back legs.  Their hair is coarse and comes in a wide variety of colours.
Did you know? - Guinea pigs are excellent swimmers.
8. Finches and Canaries
Zebra Finches (Taeniopygia Guttata) (as picture)
Did you know? - The average lifespan of a Zebra Finch in captivity is 5 - 10 years. However, the oldest recorded Zebra Finch in captivity was 17 years old.
Canaries (Serinus Canaria)
Did you know? - The life expectancy of a canary is between 10 and 15 years.
9. Tea Room
Tea Room
Our tea room is open daily during the spring and summer and open on weekends and school holidays during the autumn and winter.
It serves a wide variety of meals and snacks ranging from soup and sandwiches to hot meals for both adults and kids.
10. Small Animal Barn and Petting Centre
Small Animal Barn and Petting Centre
A lot of our smaller animals live in this barn. In here you will find our rats, mice and lots more.
You will also find our small animal petting area in this barn where you can meet our rats and their friends and give them a cuddle.
11. Pigeons
The Pigeons in our enclosure are:
Nun Pigeons - a breed of fancy pigeon developed over many years of selective breeding.
Old Dutch Capuchine Pigeons - an ancient breed dating back to the early 14th century.
Mookee Pigeons - originally an ancient flying breed from India.
12. Parrots
African Grey Parrots (Psittacus Erithacus)
Did you know? - One African Grey Parrot called N'kisi was said to have a vocabulary of over 900 words in 2004.
Blue and Gold Macaws (Ara Ararauna)
Did you know? - The bare skin around the face of the Blue and Gold Macaw can 'blush' as humans do, when they get excited.
13. Diamond Doves
Diamond Doves (Geopelia Cuneata)
The Diamond Dove is one of the smallest of the Australian doves. It has a grey body and the adult bird has white diamond specks on its' wings. The eyes of the adult bird are set off by a pronounced orange ring.
Did you know? - Diamond doves can live for 10 to 14 years in captivity, but have been known to live into their twenties.
14. Rabbit Barn
Rabbit Barn and Petting Centre
Our resident rabbits and their babies live in this barn.
You'll get the opportunity to meet our rabbits and give them a cuddle at one of our supervised sessions.
1. Car Park
1. Car Park and 'Pay-in' cabin. This cabin is used during the holidays and busy periods. When not in use - please report to the shop for your tickets.
15. Indoor Play Barn
Indoor Play Barn.
Birthday Party Room - see Events page for more details.
Indoor Go-Kart Track.
Why not burn some energy off in this barn?
Free entry - no extra charge into this area.
16. Gift Shop
Gift Shop.
Visit our well-stocked gift shop for souvenirs, toys, sweets, crisps, and ice creams.
Our gift shop is also our 'Pay-In' point when the Pay Cabin is closed.
17. Indoor Play Area and Birthday Party Area
Indoor Play Area.
Birthday Party Room.
This area is for age 5 and under.
You can reach this area through the gift shop.
18. Pheasants
In these enclosures we have:
Golden Pheasants (Chrysolophus Pictus) (as picture)
Lady Amethyst Pheasants (Chrysolophus Amherstiae)
Reeve's Pheasants (Syrmaticus Reevesii)
Temminck's Tragopan Pheasants (Tragopan Temminckii)
19. Ducks and Geese
In this enclosure we have:
Carolina Ducks, Mandarin Ducks (as picture), Eurasion Wigeon Ducks, White Call Ducks, Mallard Call Ducks, Apricot Call Ducks, Shelducks, Ruddy Shelducks, Fulvous Tree Ducks, Black East Indian Ducks, Bantum Silver Appleyard Ducks, Crested Ducks and Red Breasted Geese.
Did you know? - Ducklings are not naturally waterproof and rely on their mother to provide waterproofing.
20. Toilet Blocks and Baby Change
Toilet Block consists of:
Ladies
Gents
Disabled
Baby Change Area
21. Amazon Parrot Aviary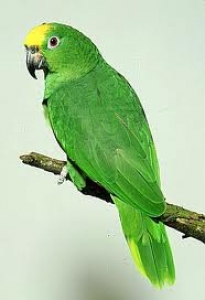 Blue Fronted Amazon Parrots (Amazona Aestiva)
Did you know? - These parrots can be quite amazing talkers and will often become great singers.
Orange-Winged Amazon Parrots - (Amazona Amazonica)
Did you know? - While the female incubates their eggs, the male eats for both himself and the female. He then regurgitates the food for the female to eat.
22. Outdoor Pedal Tractors
Outdoor Pedal Tractors.
This is within our outdoor play area.
23. Digger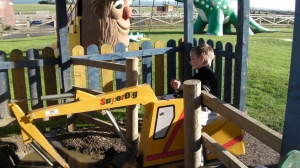 Digger.
Dig a hole in the sand - £1 a go
24. Arena
25. Bird Aviary
Mixed Bird Aviary.
You'll find an assortment of birds in this aviary.
From budgies to cockatiels.
Look closely - you might even see some babies.
26. Outdoor Play Area
Outdoor Play and Picnic Area.
An outdoor play area for all the children to enjoy
Includes slides, swings, climbing frames and a fort.
And lots of picnic tables for you to use.
27. Indoor Sand Pit
Indoor Sand Pit.
All aboard the HMS Tweddle - our ship that conceals the indoor 'Sea Shore'.
28. Crazy Golf
Crazy Golf.
Branded the 'craziest' golf ever played by our customers.
Free to play - £2 refundable deposit per club and ball required
(Available from the shop)
29. Pygmy Goats
Pygmy Goats (Capra Hicus)
Pygmy goats come in a wide variety of colours. They have short, smooth hair. Both sexes have horns. They originally came from the Cameroon region of West Africa but are now found as pets in many places.
Did you know? - A male goat is called a ram or billy, a female goat is called a doe or nanny, while young goats are known as kids.
30. Horses
Horses (Equus Caballus).
Usually here you will find Gypsy, Danny, and Peter.
Gypsy, the creamy horse is our pony ride horse and also likes to pull a cart on his days off.
Danny, is the dark brown horse and can be a little bit naughty
Peter, the coloured horse is young and was born on the farm.
31. Barrel Train Ride
Barrel Train Ride.
Weather permitting.
£1 a go
32. Alpacas and Sheep
In these enclosures we have:
Alpacas
Somali Sheep
Ryeland Sheep
Badger Faced Sheep
33. Shetland Ponies and Donkeys
In these enclosures we have:
Twinkle 1, Twinkle 2, Sonny, Poppy, and Peanut our resident Shetland Ponies
and
Toffee and Sooty our resident Donkeys.
34. Pigs, Chickens, and Turkeys
In these enclosures we have:
Pigs - our pigs are Magalitsa, Kune kune crosses (with a little bit of Tamworth mixed in)
Chickens - our chickens are Exhibition Miniature Silkies, Polish Chamois Frizzled, and Miniature Partridge Silkies.
Turkeys - just turkeys - pets and not for dinner.
35. Cameroon Sheep
Cameroon Sheep.
The Cameroon Sheep is a hair sheep. This means that instead of a woolly coat they have a fine covering of hair. This hair is red and brown with patches of black and white. In the Autumn, this coat of hair forms an additional undercoat, which is shed after Winter.
Did you know? - Cameroon Sheep have 270 degrees of vision.
36. Llamas
Llamas (Lama Glama).
Llamas can come in many different colours. They are gentle, non-aggresive, very intelligent animals. Llamas have soft, fine wool for protection against cold and heat. Their wool is warm, grease free and lightweight - due to the fibre shaft being hollow.
Did you know? - Llamas learn quickly. They are easy to train and can usually learn a new task after only 3 or 4 repetitions.
37. Zebu Cattle
38. Go Kart Track and Tractor Ride Station
Outdoor Go-Kart Track
Keep fit or race the family.
Tractor ride - Collection Point
39. Billy Goats Gruff
40. Combined Harvester
Combined Harvester.
Climb up and have a go.
Tweddle Farm Map